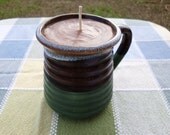 Don't miss your change to enjoy the intoxicating scent of this Italian almond liquer fragrance candle. Black Willow Soaps has contained the scent of amaretto in a creamy, brown soy/paraffin blended candle just for you!
Not only is this candle pleasing to smell, but also pleasing to look at in a charming and unique ceramic coffee mug that can be refilled with a new candle or coffee once the existin...
Click Here to Visit My Etsy Shop!