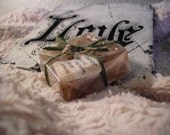 Lavender scented Olive Oil Soap with Lavender Blossoms is a 4 ounce, clear/brown colored, decorative square bar soap that is beautifully fragranced and is sure to meet all of your cleansing or decorative needs. Lavender essential oils are aromatic and pleasant. I hand-make each individual Olive Oil soap to ensure that you get the most out of your experience.
Olive Oil moisturizes and cleans the skin, r...
Click Here to Visit My Etsy Shop!