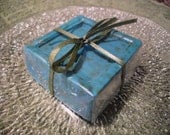 Black Willow Soaps Blueberry scented Avocado Cucumber Soap with Crushed Sage is a fruity smelling, moisturizing soap. The hint of crushed sage in the soap tames the fruity scent and gives this soap a slight earthy tone. This mixture of the blueberry and sage is bliss!
**About Black Willow Soaps**
My candle making adventure started years ago when I decided that it would be...
Click Here to Visit My Etsy Shop!