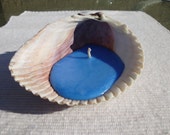 This Black Willow Soap Ocean Breeze scented Creme Candle in a Seashell is light blue and pleasantly fragrant. It will make your whole house smell sweet and relaxed.
Each candle is placed in a Sea Shell plucked right off of the beaches of Sanibel around the Sanibel Island Lighthouse here in Southwest Florida. The shells have been stripped of their barnacles and thoroughly cleaned. This candle is an exc...
Click Here to Visit My Etsy Shop!