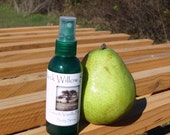 Black Willow Soaps French Vanilla Pear scented Body Spray is a sweet smelling fragrance that lasts a long time! Black Willow Soaps body spray is made in small batches so that you get the best quality product!
Black Willow Soaps body sprays are made with distilled water, essential oils, and a hint of ethyl alcohol for preservation. The amount of ethyl alcohol is so small that you will not feel it on yo...
Click Here to Visit My Etsy Shop!