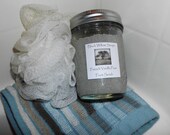 Black Willow Soaps French Vanilla Pear scented Foot Scrub is made with the best ingredients that leave your skin smooth and fragrant. Black Willow Sugar Scrubs are made with organic shea butter, coconut oil, ground pumice, and fragrance oils for a moisturizing and exfoliating product that will remove dry and damaged skin. The foot scrubs are placed in a half pint mason jar, 8 oz..
If you are looking fo...
Click Here to Visit My Etsy Shop!