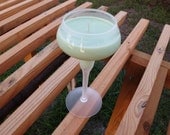 Black Willow Soaps put the lime in the coconut and came up with the Midnight Margarita scented Soy Candle. This candle light green and pleasantly aromatic! It has been poured into a hand frosted margarita glass that can be reused once the candle has been burned down as a drinking glass, or as a tea cup or votive candle holder.
Sit back and relax to the soothing scent of Midnight Margarita!
Click Here to Visit My Etsy Shop!