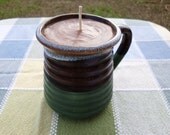 Enjoy the relaxing aroma of amaretto in this candle. This candle is filled with brown creme wax and scented with amaretto fragrance oil. The candle is placed inside of a ceramic coffee mug that can be reused once the candle has been burned down in its entirety!
My candle making adventure started years ago when I decided that it would be fun to make candles for the family for Christmas. Since then, I h...
Click Here to Visit My Etsy Shop!